Note: This post contains affiliate links which means if you click on a link and purchase an item, we will receive an affiliate commission at no extra cost to you.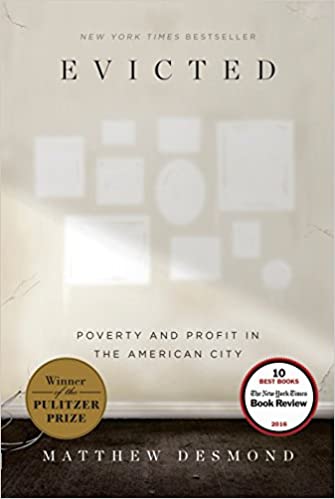 Ready to learn the most important takeaways from Evicted in less than two minutes? Keep reading!
Why This Book Matters:
Evicted looks at the toll evictions take on families in poor neighborhoods, shaping the narrative that housing is a right, not a privilege.
The Big Takeaways:
An eviction is a common occurrence for people living in poor communities.

If The reality of coming home to a yard full of the things you have loved and cherished with no access to the place you once called home is common.

As people make less money and landlords charge more money, many people are put between a rock and a hard place.

The number of evictions has grown as families struggle.

Tenants are often worried about reporting issues to their landlords.

Facing dangerous living conditions is common in poor neighborhoods because tenants live in fear of being evicted if they ask their landlord to fix something.

Many families live in a constant cycle of poverty due to their worries.

It is difficult to continue changing your place of residency because you can never "keep up."

Everyone should be allowed to inhabit a home.

The difference between a house and a home is its familiarity. Housing is a human right, not a privilege.
Want To Keep Reading?
Watch A Video Summary:
Additional Video From The Author: