Note: This post contains affiliate links which means if you click on a link and purchase an item, we will receive an affiliate commission at no extra cost to you.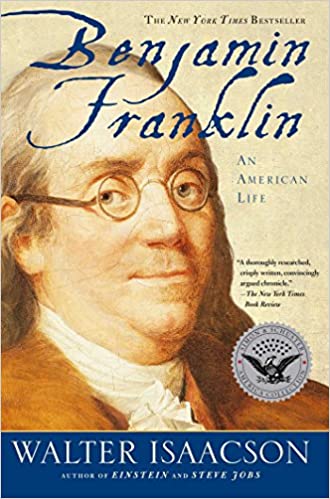 Ready to learn the most important takeaways from Benjamin Franklin in less than two minutes? Keep reading!
Why This Book Matters:
Benjamin Franklin discusses the life of one of the most beloved American leaders from his early life to his position as one of the founding fathers of America.
The Big Takeaways:
Although Benjamin Franklin had little education, he was bright and defiant.

If He worked as an apprentice to his father and older brother, but eventually became bored of that and decided to seek out his own path of life.

Franklin was an aspiring writer.

Several of his works were published in his brother's newspaper under the pseudonym Mrs. Silence Dogood.

Franklin's curiosity led him to science, where he heavily contributed to the discovery and function of electricity.

Franklin was both praised and criticized for his scientific work.

Franklin's style began the discussion that led to American independence from Britain.

He believed that human rights were to be shared by everyone.

Franklin's abilities were used in diplomacy to get the new country off the ground.

He was able to persuade other countries into accepting America's independence.
Want To Keep Reading?
Watch A Video Summary:
Additional Video From The Author: