Note: This post contains affiliate links which means if you click on a link and purchase an item, we will receive an affiliate commission at no extra cost to you.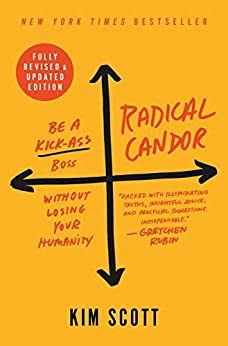 Ready to learn the most important takeaways from Radical Candor in less than two minutes? Keep reading!
Why This Book Matters:
Radical Candor tells us how to be the best boss without losing that sensitive humanistic touch, as well as how to create a workplace environment that is conducive to great results.
The Big Takeaways:
Great managers care for their team personally and give them testing challenges.

If Managers and bosses meet their employees with empathy/sympathy, but should also test their employees when they are under-achieving.

Managers and bosses must try all they can before coming to the extreme alternative – firing an employee.

When an employee is fired, it is not only the employee but the boss who suffers.

Honesty is still the best policy, especially when it comes to the professional scope.

Good managers and bosses must avoid sugar-coating things to their employees. They should be open and honest about the expectations of their employees.

Be direct and honest about your employees' shortcomings, but be wise enough not to sound rude.

Delivering constructive criticism while being respectful and appreciative is the ultimate radical candor.

You can either be a quiet or a loud listener, though the prior is the ideal approach.

The ideal way to solve challenges adhering to your team is to listen to them quietly.
Want To Keep Reading?
Watch A Video Summary:
Additional Video From The Author: