Note: This post contains affiliate links which means if you click on a link and purchase an item, we will receive an affiliate commission at no extra cost to you.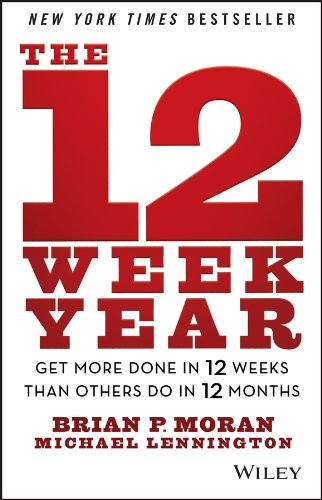 Ready to learn the most important takeaways from The 12 Week Year in less than two minutes? Keep reading!
Why This Book Matters:
The 12 Week Year helps business owners understand how planning on a 12-week basis rather than on an annual basis can help their team better focus and get things done.
The Big Takeaways:
We often don't perform as well as we could.

If Though we may have good ideas, if we are not executing them to our fullest potential every time, they are not as effective.

Planning for an entire-year can lead people to feel as they are stuck in a seemingly endless cycle.

Setting goals throughout a year leaves too much room for "playing catch up" when the first goals are not met, yielding poor performance.

Knowing where you're headed lets you take the necessary steps to get there.

A concrete vision for the future will help you navigate what you need to do to achieve those goals.

Implementing your plan in 12 weeks will help you reach your goals.

When your vision is clear, breaking down your goals into 12 weeks makes them seem more manageable. There is an end-goal within your reach, making your dreams more achievable.

Be prepared to be thrown off track.

Know what goals you need to reach each week to be on target for the next. Assess your progress every week. If things are off, find where you need to focus.
Want To Keep Reading?
Watch A Video Summary:
Additional Video From The Author: