Note: This post contains affiliate links which means if you click on a link and purchase an item, we will receive an affiliate commission at no extra cost to you.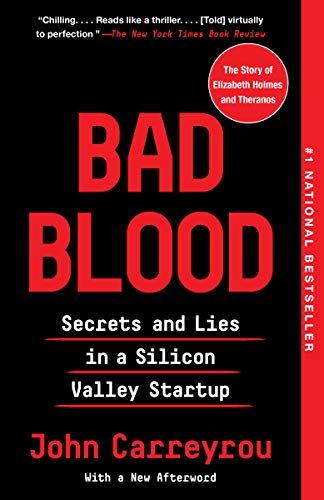 Ready to learn the most important takeaways from Bad Blood in less than two minutes? Keep reading!
Why This Book Matters:
Bad Blood introduces readers to Elizabeth Holmes's idea for a better blood testing system that went from a dream to a better future to a reality full of conceit.
The Big Takeaways:
Elizabeth Holmes turned her fear of needles into a medical tool that would potentially revolutionize how a person monitors their blood levels.

If This machine presented the idea of using several smaller needles that would have a lesser physical impact than the traditional method. It would also enable people to monitor their blood levels more carefully.

The physicality of Elizabeth's idea was nearly impossible.

Many engineers looked at the possibility behind Elizabeth's idea, but the verdict ended in impossible.

Elizabeth still believed that her idea could work, so she pushed on.

Elizabeth's demeanor had investors putting their money in to back her idea.

There were many flaws in the product design that were vowed to be worked on during beta-testing.

Theranos, the company working on the idea, covered up the fact the execution of the product was not 100% to attract more investors.

Theranos went as far as avoiding FDA inspections and lying to their workers.

Theranos thrived on misinformation, but when the truth was uncovered, Theranos tanked.
Want To Keep Reading?
Watch A Video Summary:
Additional Video From The Author: